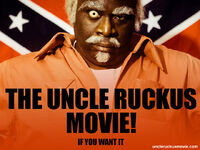 The Uncle Ruckus Movie was a proposed live-action film spin-off of The Boondocks, pertaining only to the life and misadventures of Uncle Ruckus, who would have been played by his voice actor Gary Anthony Williams.
In 2013, Aaron McGruder launched a Kickstarter project for an Uncle Ruckus film, however it failed to receive enough funding, as many fans were far more interested in seeing Season 4 (which had not yet aired at the time).
The movie was going to be about Uncle Ruckus seeing relatives of his who have not appeared on the cartoon before.
External links