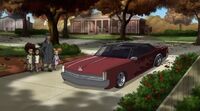 Dorothy is an old red-black car owned by Robert Freeman. It appears to be a 1975 Lincoln Continental.
Characters who have used Dorothy
Trivia
Robert may have named his car after Dorothy Dandridge, whom he had a crush on in the comic strip.
According to unproven fan speculation, Dorothy could also be the name of Robert's deceased wife.
Gallery