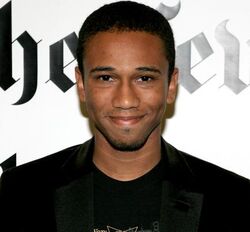 Aaron McGruder (born May 29, 1974) is an American cartoonist best known for writing and drawing The Boondocks, for the Universal Press Syndicate. A comic strip about two young African American brothers from inner-city Chicago now living with their grandfather in a sedate suburb, as well as being the creator and executive producer of The Boondocks TV series based on his strip. Through the exceptionally intelligent Huey (named after Huey P. Newton) and his younger brother and wannabe gangsta Riley, the strip explores issues involving African American culture and American politics.
Life
Aaron McGruder was born in Chicago Illinois. When McGruder's father accepted a job with the National Transportation Safety Board, McGruder moved to at age six with his parents and his older brother. He attended a Jesuit school from grades seven to nine, followed by public high school at Oakland Mills High School and the University of Maryland, College Park, from which he graduated with a degree in African American Studies. The Boondocks debuted in the student newspaper, Diamondback, in late 1997, under its then-editor, Jayson Blair. McGruder created the comic while working at the Presentation Graphics Lab on campus. At the time, he was also a DJ on the "Soul Controllers Mix Show" on WMUC.
McGruder currently lives in Los Angeles, California, where his projects include the The Boondocks animated series and the Super Deluxe variety comedy series, The Super Rumble Mix Show. He is the author of five Boondocks collections: All The Rage, Public Enemy #2, A Right To Be Hostile, Fresh for '01: You Suckaz, and Boondocks: Because I Know You Don't Read The Newspaper. McGruder is also the co-author, with Reginald Hudlin, of a 2004 graphic novel, Birth of a Nation: A Comic Novel, drawn by cartoonist Kyle Baker, and a frequent public speaker on political and cultural issues.
On March 21, 2014, he confirms on his Facebook account that he has no control over The Boondocks. This is because the show is airing it's 4th season without him. It was announced by Michael B. Jordan (friend of McGruder and voice of "Pretty Boy Flizzy") that McGruder was actually fired from the show. He also started a new Adult Swim series titled "Black Jesus".